---
Through-year Assessment
A unified solution to measure grade-level achievement and growth
We must do better. Now, we can.
The status quo is not working. Students are taking many tests, yet states don't have a view into how much learning happens during the school year, and districts want summative test results that are more instructionally useful.
Through-year assessment from NWEA empowers states to streamline interim growth and summative tests into a single unified solution.


This new approach for grades 3-8 saves teachers valuable instructional time and delivers timely, reliable information on student and school performance to districts, states, and their most important stakeholders—parents and students.
Multiple measures from one solution
With through-year assessment, districts and states can measure fall-to-spring growth as well as annual changes in summative performance. Plus, teachers receive both on- and off-grade level information in the fall, winter, and spring to inform teaching and learning.

Results that foster educational equity
Through-year assessment measures performance against state standards and achievement-level descriptors, which articulate how skills become more sophisticated as learning within each standard deepens.

Items are developed to the specific skill levels within each standard. The results support teachers in finding the point of productive struggle for all students—so opportunity and achievement gaps can be narrowed.
Watch and learn
It's time to move beyond measuring learning to fostering it. See what's different about our new approach to assessment.
A more accurate view of school performance
Most summative assessments only show what students know each spring. Through-year assessment also reveals how students grew from fall to spring, regardless of achievement level, to provide a more comprehensive view of school performance.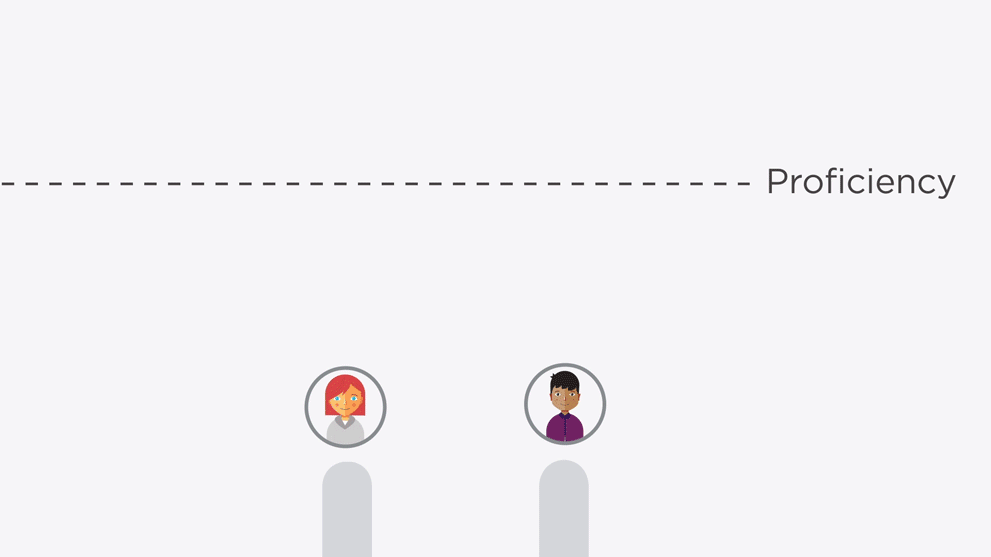 A consortium of districts in Georgia will pilot through-year assessment as part of the Innovative Assessment Demonstration Authority program and districts across the state of Nebraska will also transition to the solution.
They're part of the growing number of states, districts, and teachers ready to improve assessment.

We want to reduce overall testing for students in our districts while providing teachers with even better information during the school year to improve student learning. As part of Georgia's federal innovative assessment pilot, we are proud to contribute to the state's effort to eventually bring these benefits to all Georgia districts.


Michael Huneke, GMAP collaborating partner and director of assessment, Marietta City Schools

From day one of our development of the Nebraska Student-Centered Assessment System, we've been working toward assessments that are more directly connected to teaching and learning. We're excited to partner with Nebraska districts and NWEA to deliver on that vision.


Dr. Matthew Blomstedt, Nebraska Commissioner of Education