Jamie Valenzuela-Mumau, EdD
Consultant, School Improvement and Professional Learning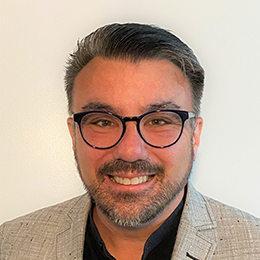 Jamie believes that the key to meeting future workforce demands is an inquiry-based environment where skills including critical thinking, engagement with self-regulation, and efficacy are developed through rigorous learning experiences. Supported by meaningful educator–learner partnerships, all students can access opportunities for their growth in these competencies, equipping them to be competitive in a global economy.
Currently, Jamie serves as an educational consultant in Los Angeles, California, where the focus of his work is on ending injustice for underserved, neglected, and marginalized youth through equipping educators with tools and resources to meet all learners' needs. Previously, Jamie worked in both charter and traditional schools, serving in executive positions such as superintendent, assistant superintendent, and director of assessment, research, and evaluation, as well as principal at both the elementary and secondary levels.
With experience supporting schools and school leaders over the last 10 years, Jamie's passion and expertise lie in coaching site and district administrators as well as school leadership teams to meet the discrete needs of the students and families within the school community. A few areas where Jamie has supported school improvement and coached school leaders include:
Effective leaders: Sharing and distribution of school leadership models, long-term strategic planning, and operational systems support in charter development and reauthorization, human resources, and school finance and budgeting.
Ambitious instruction: Dual language immersion programs, International Baccalaureate, remote and hybrid learning models, and formative assessment cycles.
Collaborative teachers: Professional learning communities, design of standards-based units, use of data to drive instructional practices, high-leverage instructional practices, teacher-leadership coaching, and support of aspiring school and district educational leaders
Supportive environment: Systems of positive behavior intervention and multi-tiered system of supports, implementation of special education practices, and socio-emotional supports for staff and students.
Involved families: Establishment of parent education and service within school governance.
Jamie served the community in Rotary International, as a First 5 Commissioner, and as a K–12 lead at the National Laboratory for Education Transformation. He has previously been recognized as Administrator of the Year.
Jamie earned a doctorate from Argosy University as well as a master's degree from University of Texas at Arlington in educational leadership and policy studies. He earned a bachelor's degree in elementary education from Oklahoma City University.